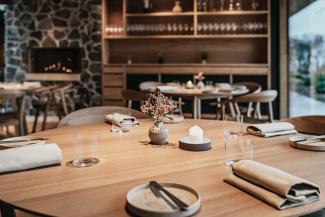 RESERVATION
We want to prepare an evening with good food and wine in a pleasant atmosphere with a great view for you.
It is only possible to visit the restaurant with advance reservation via our formitable online reservation system. The restaurant is open in the evening, from Wednesday to Saturday from 6.00 p.m. to 10.00 p.m
We serve a tasting menu, consisting of 7 courses.
In order to customize the menu according to your dietary needs, please notify us in advance in the booking form. At the time of your visit, the menu can no longer be adjusted. Our kitchen can accommodate guests with gluten and lactose intolerance and vegetarian menu requirements if notified in advance. Currently, we are not able to prepare a vegan menu. During the evening we offer pairing of food with wines or soft drinks.
If you wish to taste our wide range of older vintage wines during dinner, please let us know in advance via the booking form. We must decant the wine well in time for your visit.
Tasting menu
EUR 105.00 per person

Pairing wines Roots & Terroir
EUR 65,00 per person
In the pairing you will enjoy wines from all over the world.
It is a diverse style and combination of wines that reflect the terroir in the given region.

Pairing wines Grapes & Appellation
EUR 85,00 per person
Pairing is focused on well-known appellations and wineries from resounding regions.
It highlights the classic styles of wines and grape varieties.

Non-alcoholic pairing
EUR 50,00 per person
Reserve 3 hours for your dinner in our restaurant (believe us, it's not much). Guests can be seated at od 5.45 p.m. at earliest.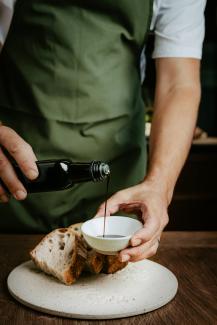 The restaurant capacity is limited. If you don't see the date or time you want when booking, it means the restaurant is fully booked up.
We can manage transport within Bratislava for you, if needed. Please include your request in the note in the booking form.
Parking is possible in the parking lot next to the restaurant.
A visit to the restaurant is not suitable for children under 12 years of age. Pets are not allowed in the restaurant premises.
If you wish to make an exclusive booking, do not hesitate to contact us at reservation@eckrestaurant.com or +421 911 513 387.
If you have any questions, do not hesitate to contact us on Monday to Friday from 10.00 a.m. to 5.00 p.m.